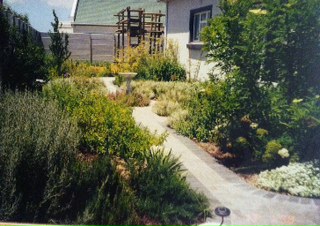 by Alison Price
Uranus conjunct Neptune
During the Great Conjunction of 1991/93. Uranus conjoined Neptune for the first time in 170 years this time in Capricorn.
The astrology group I was a member of at that time in Cape Town had a particular meeting to celebrate the conjunction where we got into huddles depending on which house this conjunction occurred in our charts.
---
6th house
For me this was the 6th house and I joined with the other astrologers in the clutch who had the Uranus Neptune conjunction in their 6th houses as well.
This is not the most exciting house in a chart because it is about health, daily rituals, service and work.
They began discussing their work and how busy they were but it did not resonate with all the group members. Someone said they had started gardening.
Well that was the catalyst for an animated discussion as we all had taken up gardening recently. Then we got onto herbs.
---
First herb garden
I was able to tell them about the new herb garden I had recently designed and had constructed down a narrow strip of land behind our house and how herbs had suddenly had more meaning for me.
That year I had been growing and cooking with fresh herbs and making interesting meals for my family which was something I had never done before. It was glorious.
Small plants are shown in your 6th house.
---
Second herb garden
We later moved to another house right on the Tropic of Capricorn (that is another story) and again the garden needed care.
My husband and his guys laid out a beautiful 10m x 10m square herb garden with appropriate circles and a birdbath in the middle.
At the time of construction, we made sure that money, yes hard cash, was buried below the concrete of the water feature. This was to provide for the garden. A nice touch.
I often wonder what those gardens look like today having had twenty-five and fifteen years to establish themselves.
---