by Alison Price
Capricorn May 2021
Read more about this month's planetary movements (for aspiring astrologers).
Read more about Capricorn in general.
---
Love
Your romantic life will get a restart at the New Moon on the 11th.
This is the best day this year for your to go on a first date.
If you are unattached, make the most of every encounter around this day.
If you are in a committed relationship, there will be a fresh angle that you become aware of in your partner.
They could surprise you with some innovative actions and responses to you.
---




---
Creativity
To live a creative life as a Capricorn, things need to be organized.
You will probably have recently been recently been inspired to get creative and to produce art, music, dance, crafts or writing that you love.
The best way for Sea Goats to stay on track, and live a creative life, is to have a checklist of what you are doing every day.
You will have the benefit of the solar light illuminating all of your creative activities until it shifts sign on the 20th.
Many Capricorns who tap into their productive gene can be highly successful.
Money
You can anticipate a slowdown in your finances towards the end month.
Be prepared and avoid spending on frivolities after the 23rd.
This is the perfect month to reassess your budget and develop one that is realistic to your situation.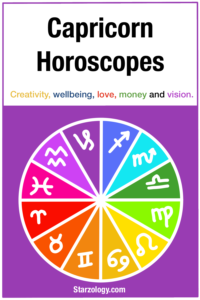 Wellbeing
If you have been feeling a little tired, this will be a month where you will be energized.
You are fortunate that three dynamic planets will be passing through your health area this month.
On May 4th Mercury will bring the ability for you to think things through properly so you make correct choices.
On May 9th the beneficial planet Venus may suggest you get a little social in your wellness activities such as yoga, meditation, or dog walking.
And finally, around the 20th, the life-giving Sun will illuminate your healthiness zone.
At this time, you are likely to feel far better than you have a for a long time.
Get out into the sunshine and soak up the Sun's life-giving rays.
Vision
Capricorns generally have their life path sorted out at an early age.
This month the best two days for you to work on your vision will be the 19th and 20th as Luna energizes the special area for you.
How you feel around this time is likely to shape your plans, and even change your life's journey for the future.
Listen to any women who give you advice about what you should be doing as they have your best interest at heart.
---
---
---