by Alison Price
Cancer May 2021
Read more about this month's planetary movements (for aspiring astrologers).
Read more about Cancer in general.
---
Money
In general, your finances will be eased up until around the 13th, whereas after this date it will be important to stay within your budget.
Being careful to not overspend now will benefit you later in the year.
However, if you do make a massive purchase you could suffer from buyer's remorse.
---




---
Love
Later in the month your love life will improve as you feel more inclines to connect with someone romantically.
Around the weekend of the 28th 29th and 30th anticipate things going well in your relationships.
If you are single, possibilities for new romance will occur around the 29th so keep your eyes open on that day.
If you are already in a meaningful relationship, the last weekend of the month will be the time to spend with each other.
This is when the celestial bodies move into positions that will support long-term relationships for you.
Creativity
Your creativity planet is Pluto and for the whole of this month it is retrograding.
This offers a chance to go back over any project you may have given birth to recently and polish them up a little.
It is an indication that you are not quite ready to go public with your creations.
Spend some time thinking deeply about your work before you show it to the public.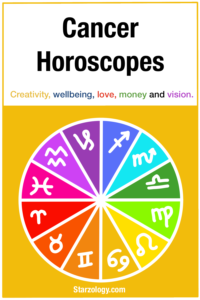 Wellbeing
This is truly a month when all crabs will feel strong both physically and mentally.
This month you have the benefit of the energizing and active planet Mars in your sign giving you a boost.
If you are thinking of starting a workout regime this would be a good time, or if you are considering improving your eating habits now is the moment to start.
Vision
For all Cancerians, your insights will improve mid-month as Jupiter enters your vision zone.
This dynamic energy will spur you want to discover your life path and even to take the first steps on your journey.
You may discover there is a different path in life for you so don't be too quick to cement one idea over another.
---
---
Read the other signs
---
---