by Alison Price
Saturn

Saturn rules Capricorn and Aquarius .
Saturn has much to say about discipline, control, self-control, suppression, limitation, boundaries, being held in and the building of walls.
On the upside, Saturn rules things you can master, your ambition, worldly achievement and your grasp in life.
Time, timekeeping, hourglasses, being on time, time and motion, watches, and clocks all are under Saturn's influence.
Capricorn's ruling planet also has an affinity with older men and your father.
Saturn symbolizes all authority figures, the police, your parents in general, anything respectable, taskmasters, headmasters, and your boss.
It has to do with all traditional things; the tried and tested, systems, methods and predictable things that are same old, same old.
Saturn is often a factor in depression a lack of faith and the feeling of being.
---
---
Saturn in the Signs
Saturn in Aries: You have limited energy.
Saturn in Taurus: You control your spending.
Saturn in Gemini: You achieve a variety of honors.
Saturn in Cancer: You are responsible for your family.
Saturn in Leo: You take fun seriously.
Saturn in Virgo: You work hard at your job.
Saturn in Libra: You marry later in life and typically after thirty.
Saturn in Scorpio: You suppress deep passions.
Saturn in Sagittarius: You limit your travels.
Saturn in Capricorn: You master traditions (ruler).
Saturn in Aquarius: You persevere with social reform (classic ruler).
Saturn in Pisces: You respect other's beliefs.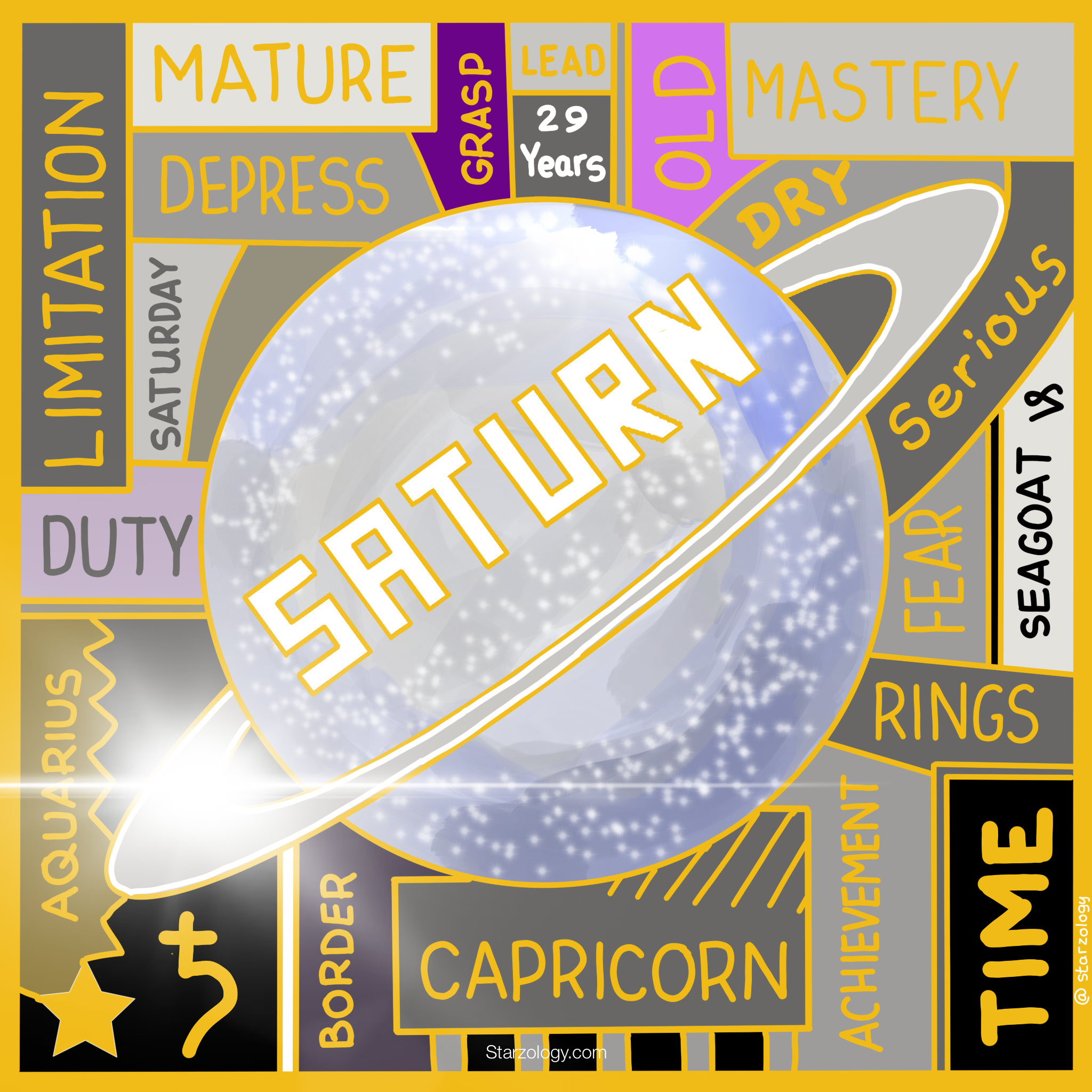 Saturn Extras
How Saturn Transits can Improve your Life
Transiting Saturn and Progressed Moon
---