by Alison Price
Aquarius May 2021
Read more about this month's planetary movements (for aspiring astrologers).
Read more about Aquarius in general.
---
Love
Your love life is steady during May.
After the 20th you will be more inclined to want to find love and you may consider going on a date with someone special.
There will be a slowdown in the last weekend as Mercury changes direction in your romance sector.
This can suggest you will review how you feel about a romantic partner.
If you are single, you will likely release yourself from a new romance or pine for an old flame.
Go on dates before the 29th as then others' motives will be clearer.
Amorous dates after the 29th may be fraught with uncertainty for three weeks until they stabilize again.
If you are in a relationship already, prepare rehash the past, as things are brought up again, once more before you both can move forward.
Building a meaningful bond takes time and if the relationship is worth it, you will stay the course.
---




---
Creativity
Aquarians can have many ideas going on in their heads as they are the masters of lateral thinking.
However, putting things into place and actually getting creative can be a challenge.
Fortunately for you this month your creativity zone is being stimulated in a positive way by three planets.
For most of May you will be inspired to make something each day that wasn't there when you woke up.
In general, creativity is expressed in many ways and certainly you need to tap into everything that interests you now.
Get productive and have something to show for all that thinking by the end of the month.
Money
Your finances will likely increase as the lucky planet, Jupiter, slips into your money zone.
This will boost your income so make the most of the bounty that comes your way.
Later in the month, your planetary ruler, Saturn, changes direction to soften the restrictions you may put on your spending
Expect eases in your budget in the latter half of this month.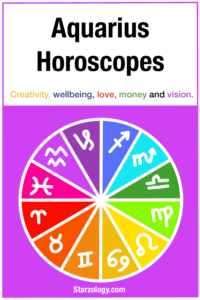 Wellbeing
For Aquarians, your idea of well-being often comes down to exactly how you feel.
There are planetary energies that are shifting for you in your well-being region this month.
Around the 23rd, you could anticipate that you just can't push yourself as hard as you would normally.
If you are someone who works out at the gym, this is the time to step back a bit and let your body recover more before you push yourself forward.
With the hot and feisty planet, Mars, in your personal health area, you are likely to benefit from breaking a sweat every day to maintain your well-being.
Avoid overdoing and over stretching your body now. It is better to have a controlled burn rather than burn out.
Vision
For Aquarians the planet that rules your vision is beautiful Venus.
This suggests that the trajectory that you want your life to take contains beautiful things and comes easily.
If you do come across a challenge, you are like you to say, "that's the end of it" and stop.
To find your reason for living is an ongoing process.
For Water Bearers this month the best days for you to get clarity about where you should be going are on the weekend of the 22nd and 23rd of May.
Any person you meet now may steer your journey on a better course.
Your job is to be open to all the possibilities.
---
---
Read the other signs.
---
---