June 2021 Horoscopes
Overarching Astrological Theme
Each month there are different themes brought forward as the celestial bodies dance around the Sun. These movements create a never-ending rhythm of cosmic energy shifts that I have interpreted for you.
Note, I use Universal Time for all our horoscope work so as to be inclusive and to cater for everyone around the globe.
---
---
Planets
As the planets move through the zodiac, they change signs and adjust their direction. Each planet has a couple of particular signs that they really love to be in and with which they resonate well.
You know yourself you may prefer to visit Aunt Agatha's place, because you feel welcome there.
The planets also have a few signs that are difficult for them to be their best.
Maybe you don't like vising Aunt Alex's place because you feel stifled or restricted in some way. This is how the planets are as well.
These shifts of planetary energy are what we astrologers look at.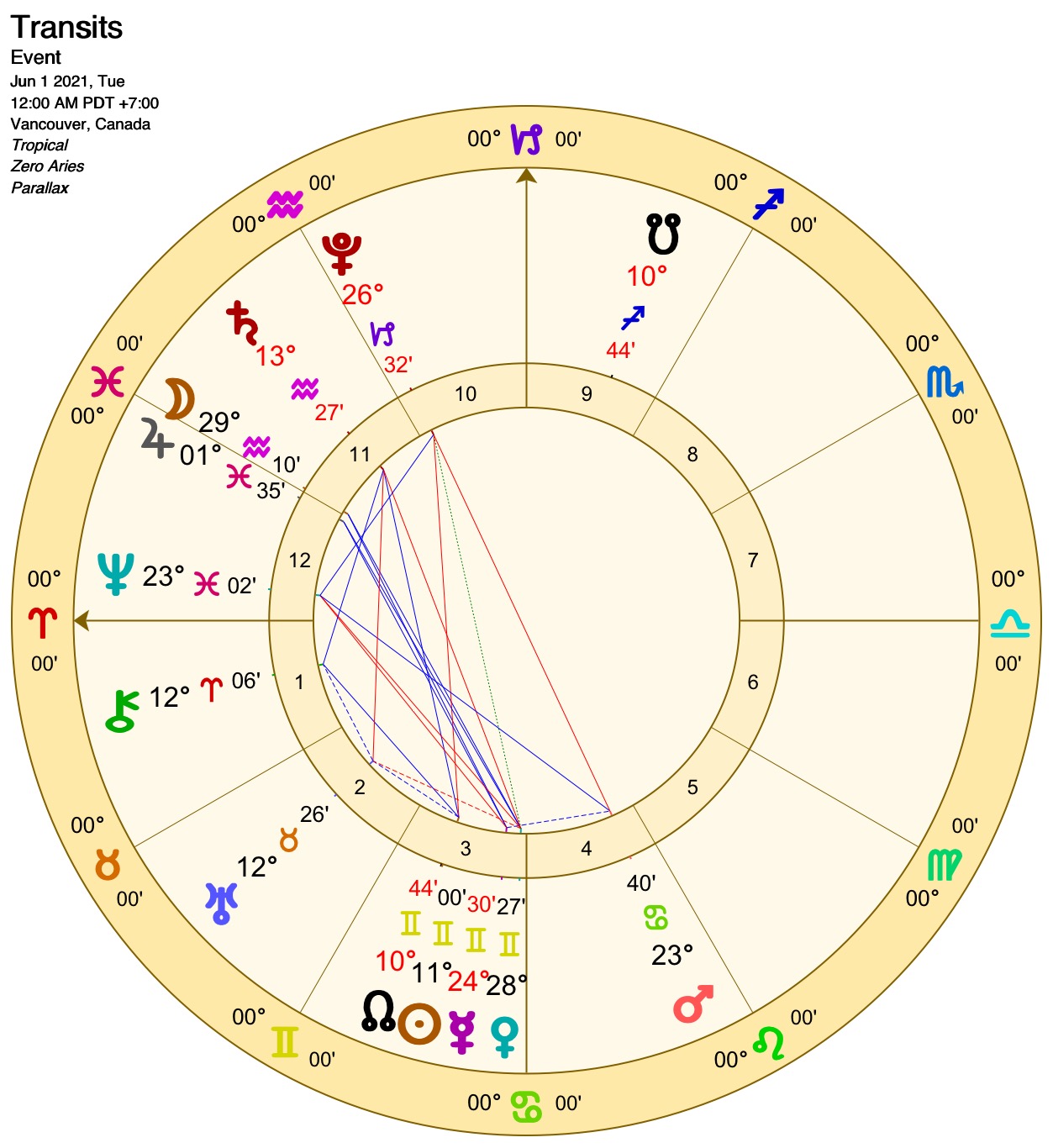 Moon
We also take a closer look at the Moon and pay close attention to the New Moon and Full Moon each month.
If there are any eclipses they will be highlighted as well.
---
Venus enters Cancer
On June 2nd, Venus enters Cancer.
Interpretation
As Venus enters the sign of the Crab, many people's financial situations can be helped by a more frugal approach. Romance will be closer to home, so look to people you live with and those who visit your place for amorous encounters.
---
Mars enters Leo
On June 11th, Mars enters fiery Leo.
Interpretation
Fiery Mars enters sizzling Leo to get some bursts of action in your life. Expect to have a few things on the go and eventually what is meaningful, and worthy will rise above it all. Keep all of your options alive as long as you can and avoid closing doors on people and situations this month.
---
Saturn squares Uranus
On June 14th, Saturn, at 13° Aquarius, makes another square to Uranus to 13° Taurus.
Who this will affect
This will affect anyone with planets or points at 13° of the fixed signs which are Taurus, Leo, Scorpio and Aquarius.
Interpretation
This powerful square suggests that responsibility and freedom are challenged. If you have allowed your life to become stagnant this will be the time when changes will occur.
This is the moment to get out of a rut to accept new and exciting situations into your life.
---
Solar Eclipse in Gemini
On June 10th, there is an annular solar eclipse at 19°47′ Gemini at the North Node.
With a totality of 3 minutes 51.2 seconds which astrologically converts to an influence for 3 months and 25 days, or up until around October 4th, 2021.
Find out more about New Moon Wishing.
Interpretation
This solar eclipse brings themes of future focus and communication.
What you scheme, plot and plan or hear on this day will set the stage for the whole next month.
This is the perfect day for an interview or to get your credentials under the nose of someone who matters.
Get ready before hand and plan to read a new book that will improve yourself through some positive and uplifting stories which you can use as a template for your life.
Affirmations
Use the eclipse day (June 10th) to state meaningful personal affirmations around your contacts, ongoing conversations and all buying or selling where you have to sign on the dotted line.
You can prepare your affirmations beforehand.
For example:
I will reach out to others whom I have been ignoring this month.
I think deeply before I speak.
I will write my journal every morning.
You can think of some more affirmations to put out at the solar eclipse that relate to Gemini and will be in effect until the next New Moon on July 10th.
If you know in which house in your birth chart this solar eclipse falls in your chart, then focus your affirmations on that area of your life.
---
Jupiter's Retrograde Cycle Begins
This year Jupiter is retrograde from June 20th, at 02º11′ Pisces, through to October 18th, at 22º19′ Aquarius.
Jupiter will pass back into Aquarius for a brief time as well like you've left school or work, but now you are going back to unpack your locker and hand in the keys.
Who This Affects
This particular Jupiter station retrograde will affect people with birthdays on 20th, 21st and 22nd of February intensely.
The Jupiter station direct will powerfully affect anyone born on 10th, 11th and 12th of February.
It will also influence anyone born between the 10th to 22nd of February, or people with planets or points between 22º Aquarius to 2º Pisces.
Jupiter will form three direct conjunctions by transit to these planets or points.
Interpretation
In general Jupiter retrograde brings themes of rehearsal, retracing and reduction.
If this Jupiter retrograde period makes contact to your chart through a conjunction, there will be restricted growth for a while.
It may dawn on you that you need more education in your field.
This is a good time to address your intellectual improvement.
Use these months (June to October) well as they are an excellent period to review and research your knowledge base to select future courses for college or other adult education opportunities.
---
Sun Enters Cancer – Solstice
On June 21st the Sun enters Cancer.
Interpretation
This is the summer solstice in the northern hemisphere and the winter solstice in the southern.
It is a turning point in the year and themes of circling the wagons and preservation of family will be strong.
There is an air of quiet confidence now.
---
Mercury Stations Direct
Mercury ends its retrograde cycle on June 22nd at 16° 09′ Gemini.
Who This Affects
The Mercury station direct will powerfully affect anyone born on the 6th, 7th or 8th of June.
Interpretation
Now there is a release and deals, purchases, paperwork, and any documents that you have to sign in particular, can go more smoothly.
---
Full Moon
On Thursday June 24th, there is a Full Moon at 3°28′ Capricorn.
Who This Affects
The June Full Moon will specifically affect you if your birthday is on 23rd, 24th or 25th December.
Interpretation
This Full Moon occurs at the Moon's north node which suggests themes of looking towards your future with anticipation.
You may not actually step forward, but you can see the possibilities.
---
Neptune Stations Retrograde
This year Neptune is retrograde from June 25th, at 23º12′ Pisces, to December 1st at 20º24′ Pisces.
Who This Affects
This particular Neptune station retrograde will affect people with birthdays on 13th, 14th and 15th March intensely.
The later Neptune station direct will powerfully affect anyone born on 10th, 11th or 12th of March.
It will also influence anyone born between 10th to 15th of March, or people with planets or points between 20º to 23º Pisces who will experience a three-contact conjunction to their natal planet or point from Neptune.
Interpretation
In general, Neptune retrogrades brings themes of, rehearsal, reflection and refresh.
Neptune is very strong in its own sign of Pisces.
Neptune's retrograde cycle in the sign of the Fish can be a time for more realism and a release from limiting beliefs that may have held you back.
You are likely to see many things clearly now.
This period will encourage your artistic, musical and spiritual side to become more apparent which is especially the case if transiting Neptune conjoins a planet or point in your natal chart.
---
Venus enters Leo
On June 2nd, Venus enters Leo.
Interpretation
Now there is a shift of energy as you look for creative solutions around your love affairs.
If you are single, you will be more open to a romantic encounter although it may not get heavy immediately as this is the time to play it cool.
If you are in a meaningful relationship, this period will bring more heart to the affair and now engage yourself whole heartedly with your fun-loving partner.
---
Each Signs Horoscopes
---
---