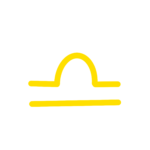 by Alison Price
Libra
Libra is the sign of the Scales and the dates when the Sun is in Libra are from September 23rd to October 23rd.
A Libran key phrase is "I can relate to that" and many strong Libran types will pepper their sentences with that one. The ruling planet is Venus the brightest body in the sky after the Sun and Moon.
---
---
Libra is of the air element and means you are intellectual and a thinker. It is of the cardinal mode suggesting you have leadership qualities. And in the positive polarity showing that many Librans are extroverts and go-getters.
Libra loves equality especially in partnerships. You are persuasive and will encourage others to see your point of view.
You are balanced and will compromise on occasion. You generally have good manners and are civil, polite and courteous.
You are an elegant person with style. You are a brilliant negotiator and will step in to mediate and take on a peacekeeping role. You love companionship and enjoy being with one special person.
The sign of the Scales rules balance, symmetry and things on the level. You can commit and are focused on your significant other's needs.
---
Planets in Libra
---
Libra Extras
Libra
---
Other Signs
---