by Alison Price
Taurus
The Sun is in Taurus from April 20 – May 21.
The symbol for Taurus is the bull. A key phrase used by Taurus is "I possess" and many Taureans use this opener or related ones like "I have…" to start their sentences.
Beautiful Venus is Taurus's ruling planet.
Taurus is of the fixed mode suggesting that they like stability, the earth element indicating they are in touch with reality and the passive polarity which means they are sensitive and sensuous.
---
---
Taurus Positive Traits
Taurus people are generally patient. They can be possessive and keep things forever. They like land and what money can buy.
They are good at preserving (both relationships and food) and are considered very reliable.
Of all the signs they have the most common sense.
If you are a bull you are deliberate in your actions and you are generally solid, earthy and a good worker.
Challenging traits: Can be plodders and resist others.
Body parts: Throat, voice, neck.
---
Taurus 

Compatibilities

 
Passionate for Scorpio.
Loves Taurus, Virgo and Capricorn.
Friends with Cancer and Capricorn.
Stretches with Leo and Aquarius.
Grinds with Libra and Sagittarius.
Ignores Aries and Gemini.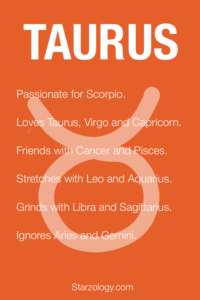 Taurus Keywords
Fixed: Stable, earthy, solid and immovable.
Sense: Sensuous, touch and your sense of touch.
Food: Produce, farming, agriculture and the land.
Money: Banks, currency, monetary systems and credit you can raise.
Planets in Taurus
Sun in Taurus
Moon in Taurus
Mercury in Taurus
Venus in Taurus
Mars in Taurus
Jupiter in Taurus
Saturn in Taurus
Neptune in Taurus
Pluto in Taurus
---
Other Signs
Capricorn
Aquarius
Pisces
---
---