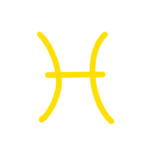 by Alison Price
Pisces
Pisces is the sign of the Fish. Its symbol is two fish tethered together but swimming in the opposite direction. The Sun is in Pisces from February 21st to March 21st.
Your key phrase is "I believe…" and many strong Pisces types use this to begin conversations.
You have two ruling planets; Jupiter your traditional ruler and Neptune your modern ruler.
If you are born under the sign of the Fish it means you fall under the fluid and flowing element of water, the quality of mutability which suggests you are flexible and the passive polarity indicating you will take in and absorb things more than most. This can mean you empathize with others.
If you are Pisces you will make sacrifices and are understanding. You will blend well with others and can be arty. You may drift a bit in life but you have compassion. You are idealistic and can become disillusioned at times. You may be glamorous. You can be vague, kind and will be happy to surrender. You may retreat near the sea and you are spiritual and devoted.
---
---
Planets in Pisces
---
Pisces Extras
Pisces a Gordian Knot of a water sign.
---
Other Signs
---