by Alison Price
Virgo May 2021
Read more about this month's planetary movements (for aspiring astrologers).
Read more about Virgo in general.
---
Wellbeing
For most of the month, you have a happy-go-lucky attitude, which is wonderful.
However, be ready for a change of pace after the 29th, as your ruling planet, the "Messenger of the Gods" Mercury, turns direction and starts to back track.
This will be a signal for taking things easier and for you to double check your numbers and facts before speaking out.
Now the devil is in the details.
---




---
Love
Now is the moment to take your close personal relationships seriously as opportunities for happiness come your way.
The lucky planet Jupiter will bring heightened energy now in your marriage or serious partnerships.
This would be the perfect time to take things seriously and make a commitment to someone who truly makes you happy.
Vision
The Taurus New Moon on the 11th falls in your vision zone to bring themes of a new path for your life.
Choose to stride forward, even if you are a little unsure of your footing, because the universe is behind you now.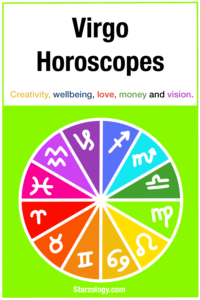 Creativity
This is a time to get creative.
Not everything you produce needs to be shown to everybody else and you may benefit now from simply creating things for your personal pleasure.
Give yourself enough time to work through your art, music, or other creative endeavors to the point where you are satisfied with the results.
Avoid feeling pressure to display to all and sundry everything you do.
Money
Your money making that comes through your work or career will be good for most of the month.
As Venus and the Sun bring their positive energy to bear, you may receive a financial bonus around the 22nd which lifts your spirits.
Try to get all buying and selling negotiations and paperwork signed off before the 29th.
---
---
Read the other signs.
---
---