by Alison Price
Scorpio May 2021
Read more about this month's planetary movements (for aspiring astrologers).
Read more about Scorpio in general.
---
Vision
Your traditional ruling planet, Mars, is energizing your vision sector this month.
This will give you the urge to seek out and find the right life path for you.
If you haven't done so already, consider making a vision board to help you focus on what you are trying to achieve in your life.
We all have the same 24 hours every day and it is important that you spend your time doing something that satisfies you.
---
---
Love
This month you are fortunate in love.
The big planet Jupiter will bestow gifts or love and romance on your now. Opportunities to find someone special will abound.
The New Moon will spark a fresh approach to your committed relationships.
If you and your partner have gone a little stale, there will be a spark to rekindle the earlier emotions that you both share.
Expect a feeling of nostalgia to swirl in the air as you take a trip down memory lane to the early days of your partnership.
Creativity
If you are a Scorpion who thinks they might be creative, then this is your month.
The lucky planet Jupiter will enter your imaginative zone on the 13th.
This will bring you massive opportunities to express yourself and be creative in whatever field interests you.
You may be interested in making things, crafting, painting, music or writing or anything else that you feel shows your inner expression in a creative way.
This shift of celestial energy will benefit you for at least the next nine months where we can anticipate that you will be prolific in your production as you get all your projects out into the world.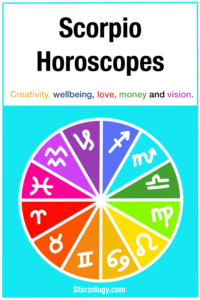 Money
The lunar eclipse on the 26th will stimulate your financial life.
This is likely to be a time when you say exactly what your financial situation is so you can do something about it.
This will be a good time to make donations to causes that you believe in.
Later on in the month is the three planets Mercury, Venus and the Sun move into your data area you may be tempted to go overboard and load your credit cards unnecessarily.
If you are more enlightened, you will navigate this time frame intelligently without causing you sleep last night.
Wellbeing
The weekend of the seventh eighth and ninth will be a positive time for your well-being.
This will be a time when you feel good, so it makes sense to plan some interesting activities at this time.
Later in the month around the 24th your mood will improve and regardless how life is gone you will feel happier.
Pay close attention to your reactions to those around you and choose to spend time in the presence of uplifting people now.
It is always important to pay attention to any deep feelings you may have that arise from the company you keep.
---
---
Read the other signs
---
---