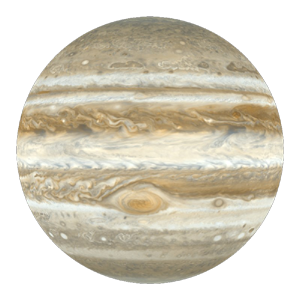 It's a whopper!
Jupiter rules the sign Sagittarius the archer. Traditionally it is the ruler of Pisces the fish. We now refer to Jupiter as the co-ruler of Pisces along with the modern ruler Neptune.
Jupiter takes twelve years to make one journey around the Sun. With a dozen zodiac signs Jupiter will spend about one year in each sign. The timing is not exact but is pretty close. Jupiter's orbit is loosely aligned with Chinese astrology which has one sign for each year and not each month as in western astrology. You can see the slight permutations in the movement of Jupiter through Gemini when you line it up against the Chinese astrology signs.
People with Jupiter in Gemini born between:
1900 to 1966 are either Snakes or Horses
1976 to 1978 are either Dragons, Snakes or Horses
1988 to 2025 are either Dragons or Snakes.
Jupiter in Detriment
When a planet is in the sign opposite the one it rules (in this case Jupiter rules Sagittarius) it is said to be in its sign of detriment. Ptolemy had much to say about the essential dignities of the planets and when a planet is found in its detriment it receives a weighting score of -5. Jupiter is in its sign of detriment when in Gemini. This indicates the planets energies are not able to function particularly well or reach their full potential. Of course as always, a full analysis of the Jupiter complex is needed to appreciate its position in any chart.
The planet of breadth has met the sign of information.
What we can expect as Jupiter transits Gemini:
Information overload
Urgent messages need to get out
Outrageous media reports may not all be true
You will have a finger on the pulse of what's going on
Online magazines will become the norm
Ebook publishing market will explode
You will broadcast yourself even more
Short forms texts and tweets will become expressive
Headlines will be too good to be true
---
Comments from LinkedIn user group "Professional Astrologers" 
Rohit Parikh • Dear Alison ,
The planetary movement in indian system differs from the solar system of western astrology .In indian system the planet jupiter has recently entered in the Taurus .This is just for your kind information please.
Thanks
Rohit Parikh
Sandy Anastasi • How interesting. I am a double Gemini (Sun-Moon) and my Jupiter is in Taurus. I will certainly be watching this!
Alison Price • @Rohit, I believe in Lahiri this is the case. Perhaps you would like to share your views on Jupiter's placement as you see it?
Alison Price • @Sandy, You can probably benefit by noting when Jupiter conjoins your Gemini Sun and Moon. This is a great opportunity to see astrology in action through your own natal chart.
Sandy Anastasi • Since my Gemini Moon is at 6 degrees I am already beginning to feel that…or at least get whispers about things to come. I have Gemini Venus at 19 degrees exactly trine Libra Neptune and my Gemini Sun at 29 degrees. Gemini is intercepted in the 12th house. Since I teach, write, and travel a great deal I suspect this is going to be an interesting if not wild ride! I will most definitely keep a diary. Under this present Venus transit I am getting some strong insights already.
---