The ABC's of Astrology
May 5th, 2017 at 7pm
Beginner's Astrology Roundtable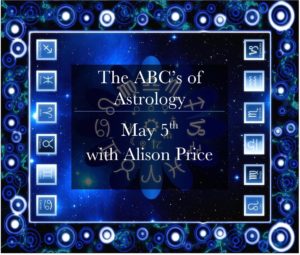 In this informal setting and with other astrologers I shall contribute the sections on the planets and the aspects as part of this small group.
If you think you need to know some more astrology come along and see what it is all about.
You get answers to your astrology questions.
This evening is for beginners and those with a little astrology knowledge.
We will discuss:
The signs of the zodiac.
The twelve houses.
The planets and their meaning in your chart.
The aspects or connections between the planets and what each one means.
Learn about some astrology teachers in your area. (that's me)
I will be discussing my general classes and will explain about my personal astrological coaching and mentoring program.
Your questions answered.
Bring your chart if you have one.
---
The Astrologer's Den
A genteel group of astrology enthusiasts
Friday, May 5th from 7pm-9pm
Columbia St, New Westminster. BC. Canada
(Columbia Skytrain Station)
$10
Join us for a casual dinner beforehand from 5pm at Stefano's Restaurant.
---
---