by Alison Price
Astrology Newsletters
It has been my pleasure and privilege to design, edit and publish the newsletter of the Canadian Association for Astrological Education (the CAAE) since January 2015.
Below are the editions for you to download and enjoy.
We would love to hear your comments and feedback on all articles we publish.
Alison
Editor
---
Here are the latest editions of Ideas
Ideas is the quarterly newsletter of the Canadian Association for Astrological Education (the CAAE).
---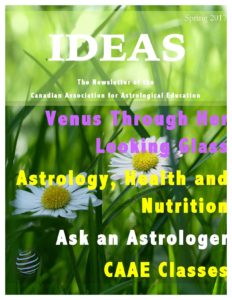 ---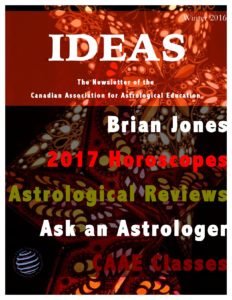 ---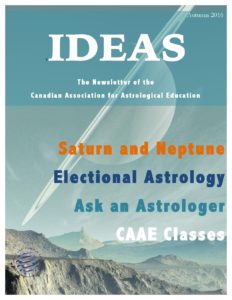 ideas-autumn-2016
---
---
---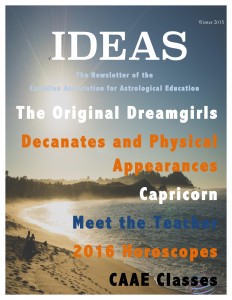 ---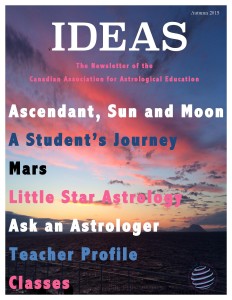 ---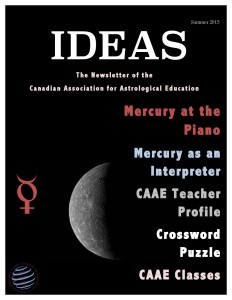 Ideas Summer 2015
---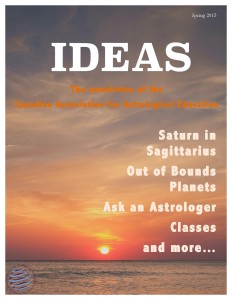 Ideas Spring 2015
---
Writer's Guidelines
There is no honorarium.
What to write
Write about your passion and how astrology inspires you.
Here are some topic ideas:
If you are just starting out as a student, we would like to hear about your learning experiences which you can share with others in your situation.
If you are an advanced student you could write a chart interpretation or a famous person or topical situation in the news.
If you are a teacher, then let's hear about an astrological component like elements, a specific planet or special aspect. Here you could write a sequence of articles
If you are a seasoned writer you can send in something on advanced special topics like OOB's, ingresses or almutens for instance.
If you have an astrological specialty like mundane, decumbiture or synastry then that would be a good topic for you.
These are just examples and you can discover many more topics.
File Format
Write in Word.
Word Count
We accept short pieces or segments (half a page) at 300-500 words and main feature articles at 1000 – 1500 words. Larger articles may be split over two issues into Part 1 and Part 2.
Hyperlinks and Footnotes
Please do not use hyperlinks or footnotes in your document. These have to be removed to meet our format and they cause unnecessary work for the editor.
References should be numbered and listed at the end with the number in square bracket [1] placed in the text at the relevant sentence.
Images and Charts
You may send as many copyright free images, diagrams or charts (as .jpg files) as you like.
Mini bio and Promo Headshot
Provide an optional mini-bio preferably in the third person (50 words). Include your choice promotional headshot photo .jpg.
Contact Details
Add your contact details specifying your website URL (home or landing page), and your email address so readers can contact you.
Alison Price
Editor – CAAE Ideas newsletter
---
[contact-form-7 404 "Not Found"]
---