The Great Year and the Age of Aquarius
Master Cycles of Life
Presented by professional astrologer Alison Price
7pm, Friday, April 3rd, 2020
New Westminster, BC, Canada
This event is under the auspices of the Astrologer's Den – Fee $15
---
In this evening presentation you will be taken on a journey back in time. Under Alison's guidance you will:
Discover the underlying master cycles in the solar system that affect us here on Earth.
Explore several Astrological Ages, so you can gain understanding of celestial movements.
Appreciate the correct timing of the precession of the equinoxes.
Have fun in a supportive environment.
Pre-event Dinner
Join us from 5:00pm onwards for a delightful pre-event casual dinner at Stefano's Greek Restaurant (map) for networking and pre-event conversation.
On-the-spot Readings
Alison will be offering complimentary "first come first served" On-the-Spot Readings at Stefano's from 4pm to 5pm.
This presentation is suitable for all 5 levels of astrologers from hobbyist to master astrologer.
Bring your chart.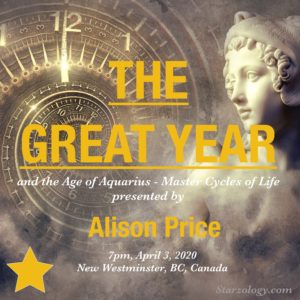 ---