Are You An Aspiring Astrologer?
You are an aspiring astrologer if you:
Want to read charts for friends and family
Have a passion for astrology
Are thinking about taking an astrology class
Want to know which books to read
Want to know where to start
An Aspiring Astrologer is someone who wants to know a little more than their Sun sign.
When you realize that knowing your Sun Sign is not enough it is time to explore astrology further.
Below are some sections and links to help you navigate our site and find things that may interest you.
---
Learn Astrology
#StarzClass
Classes and courses
Beginner's astrology classes – 16 lesson course over two semesters or individual lessons.
Intermediate Astrology classes – 16 lessons course over two semesters or individual lessons.
Learn astrological forecasting in 16 lessons over two semesters by Skype and in Vancouver.
Synastry and Relationship Astrology in 6 easy lessons over one semester online and in Vancouver.
---
Private Coaching and Peer Review – by the hour
Get some one-on-one coaching – For astrology students who don't want or need a full course but who just want some specific help.
You choose the topic. Private coaching can be used as peer review when you start to read your first few charts for your real clients.
In private coaching, I will cast the charts for your clients and in peer review, I will analyze your chart preliminary analysis and offer feedback on your details, emphasis, and techniques etc.
---
Attend a lecture
Go to a lecture or speaking event – various
---
Learn with Books
My new book The Aspiring Astrologer – 52 Self-paced Astrology Lessons available now.
---
Student resources
Glossary of astrological terms Some words used by astrologers to separate the men from the boys.
Recommended reading list – books, software and conferences Got some cash to spare? If you only buy one or two astrology books start with these recommendations.
---
General Topics About Astrology
Listed here are some articles on the blog about astrology in general.
Charts specifics
These blog posts are more specialized and relate to specific areas of chart reading. If they don't make sense now you can come back later and re-read them.
Signs – Polarities, Elements, and Modes
Elements – The elements and herbs
Elements – The Elements in the Garden
Modes – The modes at the movies
Modes – A la mode – of the fashion
---
Planets
Sun
Why knowing your Sun sign is not enough
How to interpret a retrograde Sun.
Summertime and the living is easy – Sun in Leo
Job seekers – Your Day in the Sun
---
Moon
New Moon and the part of fortune
The Moon your mother and food.
Creating Good Habits with The Moon
Mercury
Mercury and Uranus – The mind planets – Podcast
Job Seeking when Mercury is Retrograde
Venus
How to celebrate the 2012 transit of Venus
Mars
Mars can kick-start your projects
Mars in Libra – Walk softly but carry a big stick
Jupiter
Jupiter in Leo – He who dares wins
Looking forward through the retrogrades of 2014
Saturn
How Saturn transits can improve your life
Uranus
---
Houses
The sixth house and herb gardens
Your quiet month – Sun transits the twelfth house
Book review – The Twelve Houses by Howard Sapportas
---
Aspects
Jupiter trine Uranus – Get fired up!
---
Major aspect patterns
Yod – Jupiter quincunx (Saturn sextile Pluto)
Yod – Venus quincunx (Chiron sextile Pluto)
---
Eclipses and lunations
Solar eclipse – 9 Taurus – April 2014
Annual solar eclipse – 11 Scorpio – November 3, 2013
---
Forecasting – Advanced
Progressed Moon and Transiting Saturn
---
Professional Astrologers
Thinking of taking it further and becoming a professional astrologer? Many people do and you can too.
I have more information on this topic for you here.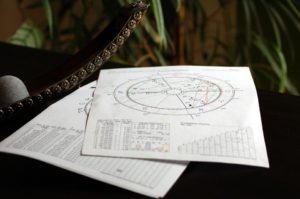 ---