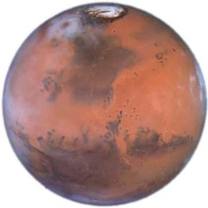 Mars
Mars is the planet of beginnings, pioneering action, expended effort and it shows where you are happy to burn energy.
Mars rules the sign Aries the Ram, which it the first sign of the tropical zodiac, and is the traditional ruler of Scorpio the Scorpion.
As the first of the planets further from the Sun than the Earth, Mars takes about two years to make one complete pass through the zodiac. Because of this orbital period Mars can be used to kickstart events and courses of action in your life.
Mars return
This two year period is known as a Mars return. When Mars returns to the natal position in your birth chart it will be your Mars return and you will have one every two years.
Having two years to do something may seem a long stretch but if you consider planning to complete a course at college or organizing a wedding it can offer a convenient time span.
The trick is to begin what you want to do when Mars transits the planet in your chart that rules the activity you want to start.
Mars conjunct your natal Venus or 7th house ruler can be pleasant for initiating wedding arrangements.
As Mars approaches Jupiter, or your 9th house ruler, it suggests you could be open to studying.
The red planet crossing your Midheaven indicates a period to take your career on another tack.
Close encounters of the third kind
If you are lucky (?) to receive a Martian three contact transit to a natal planet, it shows the time is ripe to expend the effort required to get that particular project started.
At the first direct transit you may initially be enamored by the idea and inspired. During the retrograde pass doubt can set in about the validity of the venture. Finally on the last contact your plans should be steaming along and well under way.
---