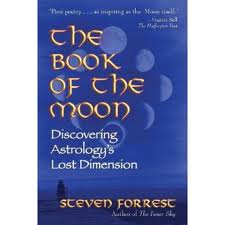 A book review by Alison Price
Publisher: Seven Paws Press, 321p., $24.95USD.
ISBN 978-0-9790677-4-7
Steven Forrest's latest publication The Book Of The Moon is likely to become is a modern classic. Here is an author who actually has something new to say and he effortlessly gets his ideas across in a most engaging fashion.
A well beloved astrologer for many years Forrest appears to be a self styled Wizard, he can certainly be placed in the "Master astrologer" category where his strong teaching ethic and years of experience shine through. He urges us to take the time to look up at the night skies and discover what the classical astrologers saw.
The author expands on some of the Moon's lesser known astrological attributes for example the parallax phenomenon (of interest to those with the natal luminaries square), declination, being out of bounds and why we use phases, to name just a few.
The void of course Moon is fully discussed and it is explained why astrologers need to appreciate all the factors pertaining to this state. He explores the history and paths taken by those who went before regarding lunar astrology.
Forrest puts forward a really good case for the eight phases of the Earth's natural satellite and why astrologers should be incorporating them into their work.
Progressed Moon cycles and progressed lunar returns are examined. The author offers one an opportunity to consider new theories on lunar astrology. With his modern writing style he gets complex concepts over and gently leads the reader into the light of understanding.
In this publication Forrest provides much food for thought as he discusses deeper meanings with an evolutionary slant. At the same time he challenges students and experienced practitioners alike to take a wider view on the many features of the Moon. All of which he presents in an easy to read, informative book showing that there is more to lunar astrology than meets the eye.
The Book Of The Moon is modern in its approach and relevant for astrology today. This book comes highly recommended for both students and professionals alike.
---