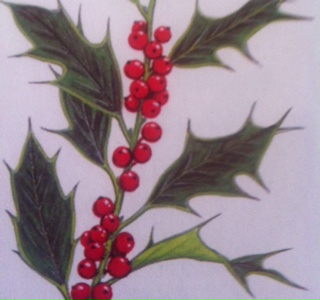 This is an Olde English Christmas carol
The holly and the ivy,
now they are both full grown,
Of all the trees that are in the woods,
the holly bears the crown.
Traditionally we sing about holly and ivy at this time of the year. We decorate our homes in December when the holly berries are red against the green of the foliage used to adorn houses in the dead of winter.
Red and green are the old fashioned colors of Christmas.
These traditions originate in the north. Obviously in the south it is summer.
The Sun in Capricorn
On December 21 the Sun enters Capricorn and we celebrate the winter solstice in the northern hemisphere. Saturn is the planet that rules the coldest time of the year.
The two Saturn signs of Capricorn and Aquarius are directly opposite the Sun and Moon's signs of Leo and Cancer which the Sun is enters in the warmth of summer.
Winter plants
During winter only a few plants are in color. Two of which are the holly with its red berries and deep green leaves pointy leaves and the soft ivy in two-tone greens.
Holly is a symbol of the masculine and ivy of the feminine. Resolution comes through kissing under the mistletoe which is another winter plant. Any excuse for a smooch.
Saturn
Every planet has lots of plants and trees associated with it. Saturn rules cold and dry things like winter.
It has an affinity with Holly and Ivy because they are winter-flowering and still hold their color in the bleakness of the coldest time of the year.
---