There are Twelve Signs of the Zodiac
The signs are Aries, Taurus, Gemini, Cancer, Leo, Virgo. Libra, Scorpio, Sagittarius, Capricorn, Aquarius and Pisces.
Aries is the first sign and Pisces is the last sign.
Planets
The seven visible planets traditionally used in astrology are; the Sun, the Moon, Mercury, Venus, Mars, Jupiter and Saturn.
The three outer planets Uranus, Neptune and Pluto cannot be seen without a telescope (although some young eyes claim they can see Uranus), but these three are not part of the traditional or classical planets of astrology.
Sign Rulership
Each sign has a planet that rules the sign known as the planetary ruler.
Aries is ruled by Mars.
Taurus is ruled by Venus.
Gemini is ruled by Mercury.
Cancer is ruled by the Moon.
Leo is ruled by the Sun.
Virgo is ruled by Mercury.
Libra is ruled by Venus.
Scorpio is ruled by Mars.
Sagittarius is ruled by Jupiter.
Capricorn is ruled by Saturn.
Aquarius is ruled by Saturn.
Pisces is ruled by Jupiter.
Above is simply a list with apparently no clear reason behind it. Students have to learn the rulerships.
But there is some method in the madness and these signs rulerships are based on the seasons.
Sign rulerships are closely related to essential dignities.
---
---
Where it Began
Where astrology evolved in the northern hemisphere (southern Europe, the Mediterranean, and the middle east) the warmest months of the year are July and August.
They were seen as the best time and the start of Leo (zero degrees Leo) as the pivotal day.
They gave the rulership of Leo to the Sun and the ruler of Cancer to the Moon. The Sun and the Moon are the two dominant bodies in the sky.
Adjacent to Cancer and Leo are the two signs allocated to Mercury (the next planet from the Sun). Gemini and Virgo are ruled by Mercury.
Next up is Venus and she rules Taurus and Libra both adjacent to Mercury's signs but one sign further out.
Mars gets rulership of the two signs of Aries and Scorpio. Mars is the next planet out from the Sun.
Next are Jupiter's two signs of Pisces and Sagittarius both next to Mars' signs.
Saturn has Aquarius and Capricorn both signs farthest from zero Leo and Saturn is the planet at the limit of our visible planets.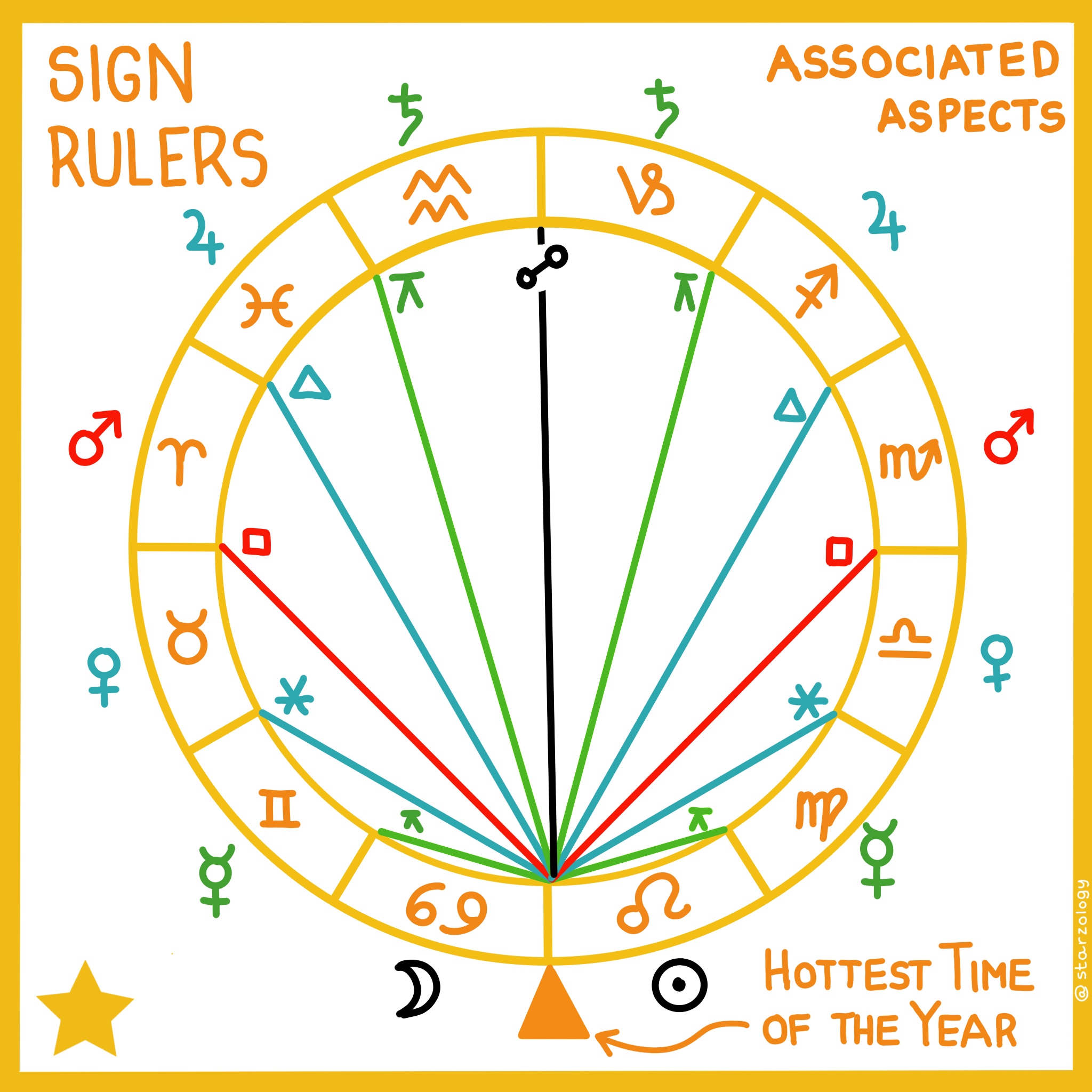 Sign Rulership diagram
I hope the above diagram explains from where rulerships originally came.
Does it make a difference to your readings? Well, probably not but the richness of the history can be interesting in itself.
---
Each sign has a planet that rules the sign known as the planetary ruler.