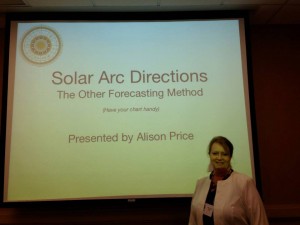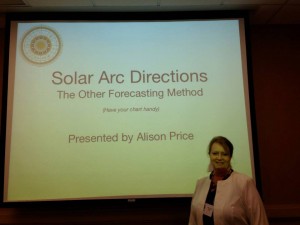 Recently I gave an exciting presentation at the State Of The Art (SOTA) astrology conference in Niagara Falls, NY, USA.
My two hour topic for 2013 was Solar Arc Directions – The other forecasting method.
I use four methods for my astrological forecasting and this is just one of them. They are great for pinpointing timing for events shown by the other forecasting methods of transits, secondary progressions and solar return charts.
The history and development of solar arc directions
How to calculate solar arc directions
Interpretations and exercises (yes, the audience had to think!)
Sample charts.
Crossword Challenge
Oh, and everyone received a copy of my astrology themed crossword and I'm still waiting for someone to complete it correctly. There is a crossword challenge which has been going on for some time.
Lecture recording
Many folk at SOTA who could not get a seat in my lecture because the room was full bought the recording on CD afterwards to take home.
If you would like a copy of the recording of my lecture you can buy an MP3 from AC-Tapes which is run by Al and Carol Groznick who are a really great couple and they were at SOTA professionally recording all the workshops.
Seven SOTA's
This was my seventh time at SOTA and the third year presenting astrological topics close to my heart. You can also get my past lectures from AC-Tapes which are The Dispositor Tree and Astrological Theories on Conception both from previous years.
AC-Tapes have a huge selection of lectures from SOTA conferences going back for many years. They also did the taping at the Midwest Astrology Conference (MAC) and recently at the Great Lakes Astrology Conference (GLAC) all held in the north east.
I believe each recording is around $10 each. For more details please visit AC-Tapes  website.
You may also like:
* * *