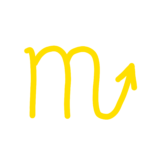 by Alison Price
Scorpio
The symbol for Scorpio is the Scorpion and the Sun will be in Scorpio from October 23rd to November 22nd. The key phrase is "I desire" and strong Scorpio types will use this expression.
Scorpio is of the element of water which means you are emotional, and of the fixed mode indicating you are a bit set in your ways. Scorpios are of the passive polarity suggesting you are receptive to others and may take things in for consideration before responding.
If you are a Scorpio you have two ruling planets the traditional planet of Mars the warrior and the modern planet of Pluto the transformer.
Scorpios are intensely passionate, survivors. You have self-control and are penetrating. You like to delve to the bottom of things. You are sexy, deep but also suspicious.
You can be unforgiving. You fare well in a crisis. You are potent and can be jealous. Others think you are intimidating and if you are betrayed you will get revenge.
---
---
Planets in Scorpio
---
Scorpio Extras
---
Other Signs
---