The Beginner Astrologer's Course Handbook
Supporting your journey to becoming a professional astrologer. The handbook to the Starzology Beginner Astrologer's Course.
Who this book is for
This book is suitable for new astrology students. If you have decided to learn a little astrology, then this is the book to help you get there.
Many people choose to know some astrology, and a few take the next step and discover a wonderful world of insights and support that astrology can provide.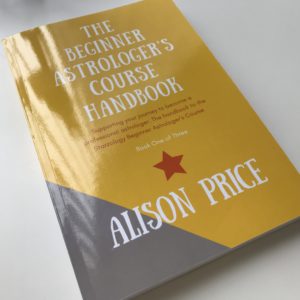 THE BEGINNER ASTROLOGER'S COURSE HANDBOOK
Supporting your journey to becoming a professional astrologer.
The handbook to the Starzology Beginner Astrologer's Course .
By Alison Price
Copyright © 2019 Alison Price
ISBN 978-0-9939814-4-9
---
A Little Astrology
Every year more and more people from all walks of life turn to astrology for answers to questions in their lives.
Many individuals want to learn astrology, although they have no plan to be a full time, or even a part-time, astrologer. Many people want to know for their own pleasure.
This is the handbook that compliments the Starzology Beginner Astrologer's Course available One-on-One with Alison (available now) and pre-recorded classes (coming soon).
Use it as a guide to the intricacies of an astrology chart. This is book one of three and the other books in this series are;
The Intermediate Astrologer's Course Handbook (available soon)
The Advanced Astrologer's Course Handbook (available soon).
This book will guide you to focus on key pointers in a birth chart, so you can get to read a chart quickly and confidently.
The Benefits of Astrology
To understand how knowing some astrology benefits you.
It is a little like knowing something about body language.
For example, if someone has their arms folded, it is a powerful signal that they are not open to what you have to say.
This is basic stuff, but great information that you can use every time you speak to someone who has already shut you out because you now can do something else or approach them differently to reach them in other ways.
I see astrology like this.
With a little astrology knowledge, you can connect with people in a better way through the understanding of their core personality, characteristics and behaviors as shown through their birth chart.
Your life was mapped out with core characteristics from the day you were born. The knack is knowing how to read a birth chart.
New Book to Help You
This book is for you if you are at the start of your astrological journey.
It is for anyone who wants to get to grips with astrology fast, and someone who does not have time to waste on the tons of details in astrology.
Learn about the importance of staying on the high roads and leaving the back roads and windy paths for another day.
You can spend the rest of your life learning more and more about astrology, but you do not need to know everything right now.
You are at the start of your astrological journey, and this book will guide you towards what is immediately important and what can be left for another day.
If you have reached a period in your life when time is critical, and you do not have three years to spend learning something new, then this book is for you.
Astro Art
I use a lot of Astro Art in my astrology practice, and I want to share it with you.
This book is rich in chart imagery with simple visuals that have a powerful message.
You can see some of the Astro Art that I share on my Instagram "Starzology" feed as well.
There is only so much time and energy that I have already put into this work.
Semesters
There are two semesters of eight chapters each.
The two semesters comprise the full Level 1 work for the Starzology Academy of Astrology and these chapters are considered first-year astrology learning.
Additionally, and to help you grow as an astrologer, you are expected to do sixteen hours of independent study for each semester.
Aspiring Astrologer Activities
The Aspiring Astrology activities are after each chapter. These are like your homework and can be related to every chart that you do from now on into the future.
Contact Alison
Got questions? Email starzology@gmail.com
---