by Alison Price
The Spring 2021 solar ingress chart covers one quarter of the year. Let's have a closer look at this chart's potentials.
Ingress Charts
Solar ingress charts are typically set on the Zero Aries house system as they can be read anywhere in the world, so the Sun will be on the left in the zero position of Aries the ram, and in this case, you can ignore the houses. Set this chart for your location to have a closer look at the chart's potentials for your area.
An ingress chart in Aries may show the situation for the next year because it occurs at the absolute start of the zodiac, but they are typically used to illuminate the future of one quarter of the year at a time.
---
---
In this case, the time period is from when the Sun enters Aries on March 19th/20th to when it again enters another cardinal sign (Cancer) around June 21st/22nd. This provides us with a good portion of time to work with, three months, one quarter of the year or around 90 days. Enough time to launch projects and set affirmations.
It always depends where you are in the world. The spring equinox in the northern hemisphere occurs at the same time as the autumn equinox in the Southern Hemisphere.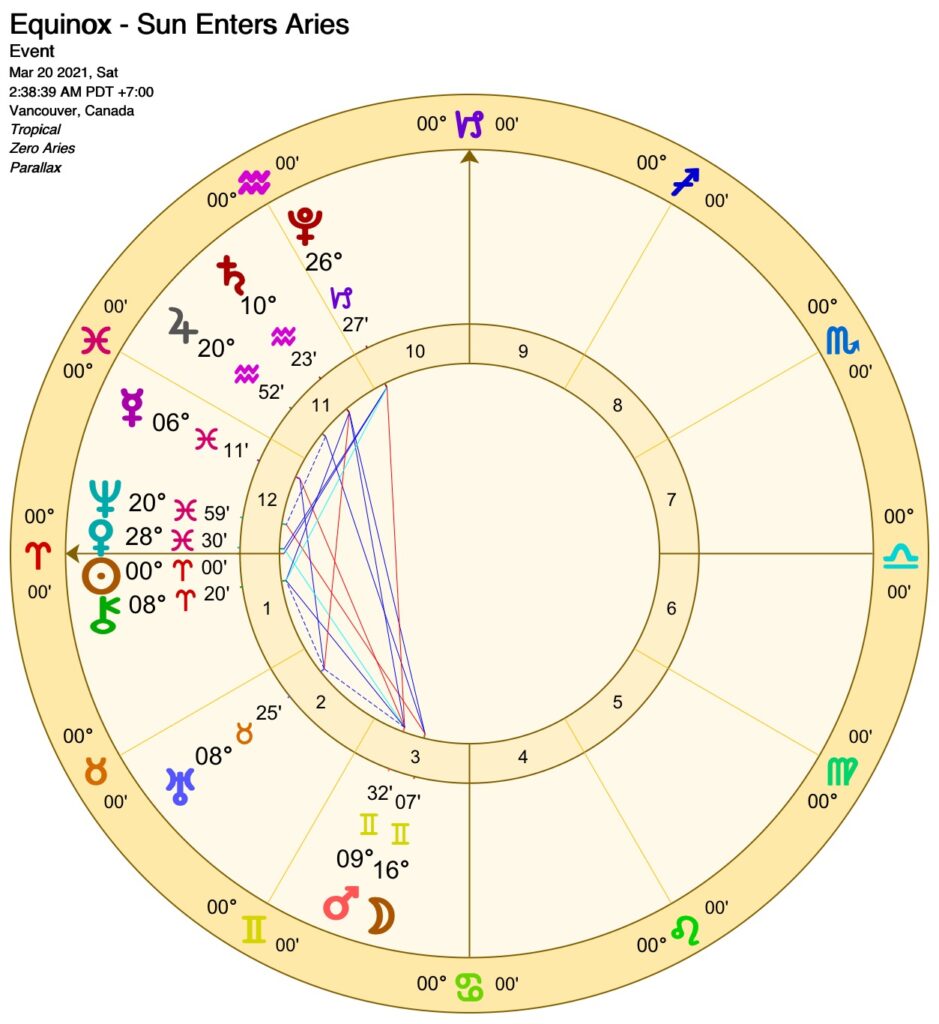 Balances Overview
In this chart there are strong influence of:
The positive polarity indicating there will be positive vibes and upliftment in general.
The mutable mode suggests a certain flexibility between people, and you will be inclined to make allowances for others easier than normal.
The air element which hints at you thinking a little longer about the ideas behind what is going on rather than rushing into action.
Planetary Overview
On a planetary level, this ingress chart features:
General Focus
The Sun in Aries suggests you will have more drive and be eager to get things done, although there may be some pushing and shoving.
The Sun is very well placed in its sign of exaltation as it can burn at a high temperature and create initiatives for those who are open to them.
The Sun is conjoined Venus in Pisces (her sign of exaltation) indicating that women may benefit more in this quarter.
The Sun sextiles Pluto in Capricorn, attracting the urge for everyone to go deeper and tap into our hidden talents.
Mercury squares Mars to drive energy into expressing yourself, but you could be overbearing and ostracize others through your strong opinions. This works both ways so you could be at the receiving end of some forceful energy so be prepared to stand your ground.
Love
Venus conjoins Neptune to add some misunderstandings in love affairs. If you are single, you need to be crystal clear about whether you love someone or not, or your prince or princess may simply slip through your fingers.
If you are in a meaningful relationship already, you can anticipate that the blending of Venus and Neptune will bring some confusion in matters of love and romance. You are likely to miss subtle cues from your partner that may be important later. They may tell you something important that you ignore only to realize the implications of after Venus has moved away from the close connection it has with Venus in this chart. Pay attention to all messages from your partner that you hear around the equinox as they will set the tone for the next three months in your relationship.
Mood
The Moon conjoined Mars in Gemini suggests quick change reactions. You could go from happy to sad to annoyed in a moment. If you are a naturally demonstrative person, it may be necessary to pause and take a breath before your emotions become whirlwind.
The Moon trine both of the social planets, Jupiter and Saturn in Aquarius, brings the urge to tap into your feelings, both happy and sad, and the urge to experience a rich life.
The Moon squares Neptune which intimates that you are likely to ignore extremes of emotions, and in doing so, you might miss the bigger picture that is unfolding right under your nose.
Money
Venus sextiles Pluto which joins the two money planets in a positive, if not lucrative, way.
There may not be excesses of cash available this quarter, but this moderate aspect connection suggests there will be enough. However, just what is enough will be subjective for each person.
On a global scale, the markets are likely to rally and maintain their strength and buoyancy this quarter.
After the equinox, choose investments that you are already in and add to those rather than branching out into new positions.
Interest rates will likely hold steady if not creep up slightly.
If you are completing your tax returns during this period, send them off at around 8:00am to 10:00am to avoid any unwanted investigations from the tax department.
Question
In which house of your birth chart does this equinox fall?
---