I want to catch you all up on what I've been up to recently as there are changes afoot.
Since Jupiter went into Scorpio I have been drawn to do some video tutorials and I have to say it has been fun.
I am still working to get the technicalities sorted out and plan to have a video each week and maybe in-between ones as well. The focus for my work and my process is to help everyone learn a little astrology.
I have more students enquiring about classes than I have time to teach. This is why I've decided to turn to video to help me get my message out to those who care and those who know their Sun Sign is not enough.
Please be patient as I get better as I really love to teach and hope this passion comes through in the content.
So far I have a few small videos and by the time I get to the tenth one it will be all sorted out.
Please help me get 10000views on YouTube by watching and liking my videos.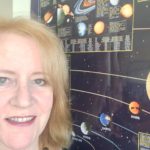 Have a prosperous day,
Alison
Check out my channel here.
---