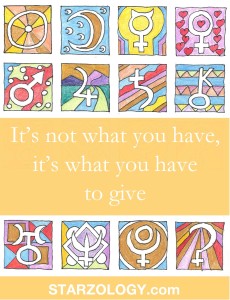 I started with my slogan of "It's not what you have, it's what you have to give" because it is what I truly believe.
Astrological advice (or more properly advice for astrologers) is pretty thin on the ground.
If you are a person who wants to create a business and make a living from astrology there is not much to go on information wise.
You can read more on the advantages of astrology and how to set-up your prosperous astrology business.
What I give
I felt I could give something back to the astrological community for all the help, support, tips and advice I have personally received over the years from my teachers, peers, students and friends.
When I started out with Starzology I wanted to share my experiences in setting up an astrology business.
I felt if I could help only one other person then it would have all been worth it.
I realize this area (moving from student to professional astrologer and advice on how to set up and run an astrology business) is a super-slim vertical niche market.
This means there are only so many people that Starzology will interest as opposed to the general astrological prediction sites which are ubiquitous.
What you give
I now find that many, many of you dear readers are showing your appreciation for the information on these pages.
Thank you
This is simply a big thank you to all those visitors, readers, fanboys and fangirls and friends who have supported me recently and the Starzology blog.
Alison
---
—
You may also like:
Write for Starzology – Guidelines.
Astrology Blogging – Day 100 and counting…
A Day in the Life of an Astrologer.
 * * *