PDF eBook available now for immediate download
Introduction to Natal Chart Analysis
Intermediate course workbook includes questions and answers
I am happy to tell you the Introduction to natal Chart Analysis course workbook with questions and answers – ebook is now available for immediate download now.
I have had a lot of fun creating this ebook and in a way it is a labor of love. If you are wondering if it is for you read on.
Who should read this ebook?
If you are an astrology student…
This book is suitable for intermediate astrology students.
It will appeal to those of you who don't live near enough to me in Vancouver to take a class with me but who still want the benefit of my teaching style.
It is also for those people who simply wish to have all the important notes and information from my Starzology Fast Track courses without having to sign up for the full course.
It will suit those of you who want to learn at your own pace in the comfort of your own home.
If you are an astrology teacher…
This book is ideal as a valuable resource and structured course guidebook for all astrology teachers and tutors who have students at the intermediate level.
Length: 95 pages
Publisher: Starzology Publications
ISBN 978-0-9920698-8-9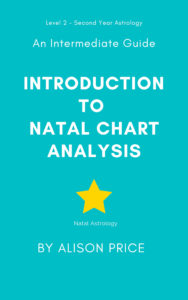 US$15.99
---
Introduction to Natal Chart Analysis
Intermediate course workbook includes questions and answers
This is book number 2 in a series of eBooks (3 and 4 coming soon)
It builds on the knowledge you have from the Introduction to Astrology eBook
This is an Intermediate Level 2 astrology book
This workbook covers all the information taught in my Introduction to Natal Chart Analysis classroom course and is presented here in eBook form for you.
---
Introduction to Natal Chart Analysis
Intermediate course workbook includes questions and answers
Table of Contents
Introduction
Chapter 1: Chart Balances
Chart interpretation worksheet
Chart Balances
Chart Interpretation Worksheet:
Chapter 2: Planetary Weightings
Essential dignities
Decanates
Dispositorship
Chapter 3: Other Considerations
Blending
Retrogrades
Chart shape
Critical degrees
The Part of Fortune
Gauquelin sectors
Chapter 4: Aspects and Aspect Patterns
Major aspects (Ptolemaic)
Minor aspects
Aspect patterns
Chapter 5: Where to Start
Extracting the relevant details from a chart
Lunar phases
The Lunar Nodes
Chapter 6: Chart Synthesis
Interpretation sequence for a natal chart
Interpretation examples – Financial questions
Interpretation examples – Career questions
Appendix
For more information please email me at [email protected]
---
What Readers Like You Are Saying About… 
Introduction to Astrology – A beginner's course workbook (Book number 1)
"I have just purchased and downloaded your Introduction to Astrology – Beginner's Workbook and I am very impressed with what I have received." – Andrew K. – June 2014
"I have just finished reading your e-book, "Introduction to Astrology."  As a newbie to the subject, I found your book to be very helpful.  Now that I have read it, I will go back and do the work assignments. Thank you for sharing your knowledge." – J.R.F. Feb 2013
---
* * *