Introduction to Astrological Forecasting
Advanced course workbook includes questions and answers
I am happy to tell you the Introduction to astrological Forecasting course workbook with questions and answers – ebook is available for immediate download.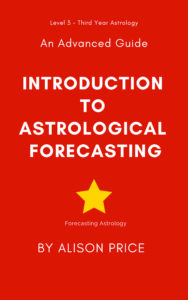 US$19.99
I have had a lot of fun creating this ebook and in a way it is a labor of love. If you are wondering if it is for you read on.
Who should read this ebook?
If you are an astrology student…
This book is suitable for advanced astrology students.
It will appeal to those of you who don't live near enough to me in Vancouver to take a class with me but who still want the benefit of my teaching style.
It is also for those people who simply wish to have all the important notes and information from my Starzology Fast Track courses without having to sign up for the full course.
It will suit those of you who want to learn at your own pace and in the comfort of your own home.
If you are an astrology teacher…
This book is ideal as a valuable resource and structured course guidebook for all astrology teachers and tutors who have students at the intermediate level.
Length: 220 pages 40000 words
Publisher: Starzology Publications
ISBN 978-0-9920698-9-6
---
Introduction to Astrological Forecasting
Advanced course workbook includes questions and answers
This is book number 3 in a series of eBooks (4 coming soon)
It builds on the knowledge you have from the Introduction to Astrology eBook
and the Introduction to Natal Chart Analysis eBook.
This is an advanced Level 3 astrology book
This workbook covers all the information taught in my  Introduction to Astrological Forecasting classroom course and is presented here in eBook form for you.
For you I have a special introductory rate of only $19.99.
---
What people like you are saying about Introduction to Astrological Forecasting advanced course workbook includes questions and answers:
"Love the book, great job!" – Diane

"Alison, Thanks so much for this book, I feel inspired to have another go at forecasting." – Alex B.

"Alison Price's Introduction to Astrological Forecasting is a brilliantly clear and inspiring set of lessons for students of predictive astrology. All the main forecasting methods used by the professional astrologer—transits, secondary progressions, and solar arc directions—are covered in-depth, and brought to life by Price's expertise and her analyses of celebrity charts. I found the exercises, cleverly designed to instill real understanding of each technique, so much fun to carry out. But more importantly, they work: I finished the workbook with brand-new confidence in my ability to put these methods into practice—and to offer reliable guidance on what anyone's future holds!" – Emma Rosenthal – London

---
Introduction to Astrological Forecasting
Advanced course workbook includes questions and answers
---
Table of Contents
Introduction
Chapters
Part 1
Transits 1: Outers
Transits 2: Middle
Transits 3: Inners
Transits 4: Lifetime Age Transits
Solar returns 1
Solar returns 2
Lunations and Eclipses
Forecasting synthesis 1
Part 2
Secondary progressions 1
Secondary progressions 2
Midpoint theory – discussion
Relocation theory – discussion
Solar arc directions 1: Angles
Solar arc directions 2: Planets
Forecasting synthesis 2
Mundane theory – discussion
Appendices
About the author
Glossary of terms
Astrological organizations
Astrological short form code
Answers to questions
---
What Readers Like You Are Saying About
Introduction to Astrology – A beginner's course workbook (Book number 1)
"I have just purchased and downloaded your Introduction to Astrology – Beginner's Workbook and I am very impressed with what I have received." – Andrew K. – June 2014
"I have just finished reading your e-book, "Introduction to Astrology."  As a newbie to the subject, I found your book to be very helpful.  Now that I have read it, I will go back and do the work assignments. Thank you for sharing your knowledge." – J.R.F. Feb 2013
* * *