Overarching Astrological Monthly Themes
Each month there are different themes brought forward as the celestial bodies dance around the Sun.
These movements create a never-ending rhythm of cosmic energy shifts that I have interpreted for you.
Time Zone
Note, I use Universal Time for all our horoscope work to be inclusive and to cater for everyone around the globe.
If you live West of the Greenwich meridian the dates may be the day before and if you live east of Greenwich these dates maybe the day afterwards.
Planets
As the planets move through the zodiac, they change signs and adjust their direction.
Each planet has a couple of signs that they really love to be in and with which they resonate well.
You know yourself you may prefer to visit Aunt Agatha's place, because you feel welcome there.
The planets also have a few signs that are difficult for them to be their best.
Maybe you don't like visiting Aunt Alex's place because you feel stifled or restricted in some way.
This is how the planets are as well.
These shifts of planetary energy are what quality astrologers consider.
Moon
I also take a closer look at the Moon and pay close attention to the New Moon and Full Moon each month.
In April there are two New Moons, one early in the month, and one towards the end of the month.
The second New Moon is actually a solar eclipse.
Find out more about New Moon Wishing.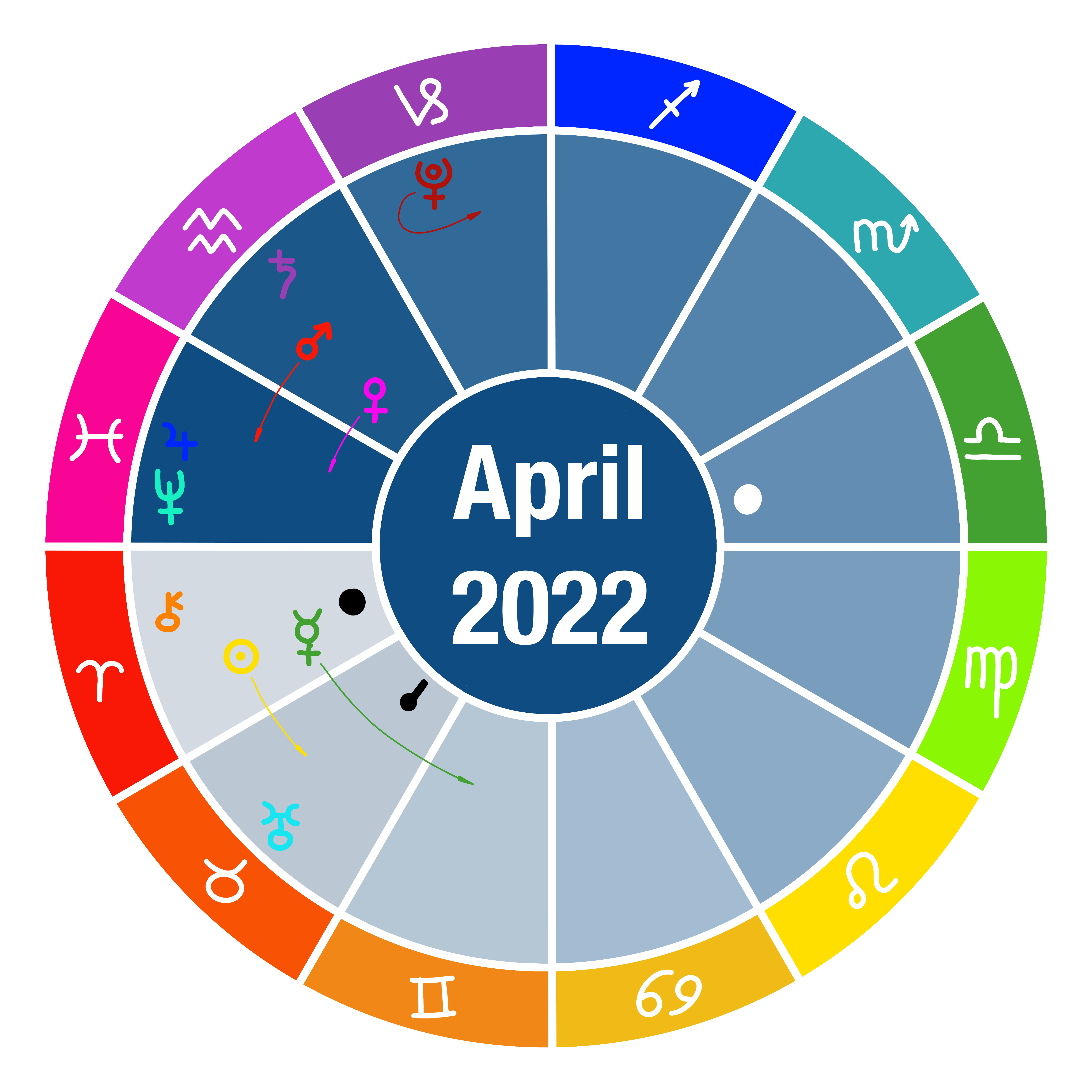 April 2022 Horoscope Overview
April 1st – Aries New Moon
The first New Moon of April occurs at 11º 31′ Aries.
This will affect anyone who has a birthday on March 31st April 1st or 2nd.
Interpretation
A New Moon is always a time to start something fresh.
New moons effects usually last for 30 days until the next new moon so this gives you a one-month window to get something done.
The nature of the new moon will be shown by the sign in which it is found in this month the first new moon is in Aries.
Interpretation
Challenge yourself to start something fresh and exciting.
April 5th – Venus enters Pisces
Essential Dignity
Venus is exalted in Pisces which means it gets +4 for Essential Dignity.
It also means that Venus is a welcome guest in Pisces and Venus' attributes will work well in this sign.
Interpretation
Intuitively, love and money are highlighted now.
April 11th – Mercury enters Taurus
Interpretation
Mercury is the planet to do with contacts connections conversations and trade.
Taurus is the sign of reliability things being solid and creating foundations. It is also the sign to do with money.
This suggests that this will be a good time to negotiate financial deals as it is more likely to favor the buyer than the seller at this time.
Conversations around establishing a base of some form.
April 12th – Jupiter conjoins Neptune
Who this will affect
This will affect anyone with a birthday on 13th, 14th or 15th of March as the conjunction will actually occur on your natal Sun.
This means that the Jupiter conjunct Neptune will be part of your solar return complex for the whole of the next year.
See more on solar returns here.
Interpretation
As Jupiter conjoins Neptune it creates the beginning of and you synodic cycle and you can find out more about that on this link.
Jupiter is only together with Neptune once in every 13 years and we are fortunate to have it in 2022 in the sign of Pisces.
Both planets are rulers of Pisces.
Their energies can work well in this sign this particular combination really supports Pisces people in general.
This will be a great time for spiritual or artistic growth and luck.
April 15th – Mars enters Pisces
Interpretation
Mars is the planet of energy, competition and where you are active.
I always say this is the planet that gets you off the couch where you will actively go and do something.
And as we can see there's been quite a lot of pressure on the sign of Pisces and as Mars enters Pisces to join with Jupiter, Neptune and Venus, it's adding a lot more activity, friction and heat to the sign.
Wherever this conjunction occurs in your chart will be a hive of activity this month.
This will be a good time to expand energy towards nuance and the unseen.
April 16th – Libra Full Moon
Who this will Affect
This full moon will affect anyone with a birthday on October the 19th, 20th or 21st as it will be built into your solar return chart for the next 12 months.
Interpretation
At a full moon the light of the Moon is the brightest that it gets drawing the month. And symbolically this shines a light in all the nooks and crannies of the situation.
In the sign of Libra, which has a lot to do with your relationships, your marriage and even business relationships with this light of this Moon you are able to see exactly what's going on in the corners.
You may not agree with everything you see but this is a time when you are more likely to say you can accept that person's flaws and continue on.
This is a time when you can clearly see everything at its full fruition and exactly who the person is that you have partnered up with.
Anticipate clarity around your relationship issues.
April 20th – The Sun enters Taurus
Interpretation
Spotlight on producing solid results.
April 29th – Pluto Stations Retrograde
Pluto will be retrograde this year between April and October from 28º to 26 º of Capricorn. Pluto has been in Capricorn for many years and it stations retrograde every single year.
The time of the station is important.
Who this will Affect
This will affect anyone with a birthday on January the 18th, 19th or 20th as the station will conjoin your Sun and be part of your solar return complex.
Interpretation
Reassess and purge unwanted clutter, situations and people.
April 29th – Mercury enters Gemini
Essential dignity
Mercury gains essential dignity with a +5 as Mercury rules the sign of Gemini the Twins.
Interpretation
Listen to your thoughts, contacts and ideas and journal your brilliance now.
April 30th – Solar Eclipse
This solar eclipse is at 10 degrees 28' Taurus and it occurs at the north node.
North Node
The north node is a place where things are coming to us like when the tide comes in on the beach and it brings goodies for us.
Who this will affect
This will affect anyone with a birthday on April the 30th or May the 1st and 2nd.
And people with these birthdays will have this solar eclipse built into their solar return chart for the next 12 months.
For everyone else the influences last is likely to last for three months.
Interpretation
Build and acquire what you need for your future now.
Conclusion
We have covered all the planetary ingresses which are the planet's changing signs, all the stations admittedly there's only one this month and the lunations which are the New and the Full Moons.
Of course there are many other things that could be looked at in the astrology of the month, but this is your April overview for 2022.
Love,
Alison
A Yod is an astrological planetary configuration also know as a major aspect pattern which is formed when three planets line-up in a particular way.
A yod looks like a triangle. See image.
This week the three planets in the current yod are Jupiter in Gemini, Saturn in Scorpio and Pluto in Capricorn.
You can also refer to this current pattern as a Jupiter Yod because Jupiter is the focal planet.
Your Second Saturn Return Astrology for the Third Age Discover more on your Saturn returns in general. Introduction As you pass the age of sixty, and even the in the year coming up to your 60th birthday, the planets make a special contact to your birth chart as Saturn...
"It is not possible that particular forms of events should be declared by any person... it is necessary for [astrologers] to adopt inference. Only God can predict particulars." ~ Ptolemy Introduction We as astrologers would certainly be wise to adopt inference about...