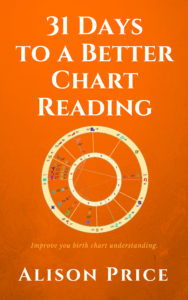 by Alison Price
Astrology Made Simple
I happy to say my latest eBook 31 Days to a Better Chart Reading is available now through Amazon and can be read on your Kindle, iPad or iPhone and of course your computer.
This is a guide for anyone who wants to read a chart and needs to get going fast.
Each day you can learn a new feature about chart reading and get better quickly.
Stop fiddling about on inconsequential details and get to the meat as soon as possible.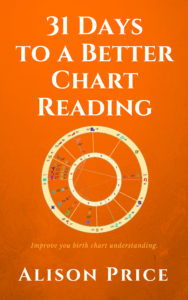 ---
Structure
This book is the culmination and distillation of all my other works combined. But it contains fresh content and will appeal to a broader audience.
Table of Contents sneak peek
Day 1: Time
Day 2: Signs Overview
Day 3: Polarities
Day 4: Elements
Day 5: Modes
Day 6: Fire Signs
Day 7: Earth signs
Day 8: Air signs
Day 9: Water signs
Day 10: Planets Overview
Day 11: Luminaries
Day 12: Lunar Phases
Day 13: Inner Planets
Day 14: Middle Planets
Day 15: Outer Planets
Day 16: Hemispheres
Day 17: Quadrants
Day 18: Northern Houses
Day 19: Southern Houses
Day 20: Aspects
Day 21: Minor Aspects
Day 22: Major Aspect Patterns
Day 23: Essential Dignity
Day 24: The Oriental Planet
Day 25: The Chart Ruler
Day 26: The Part of Fortune
Day 27: Asteroids
Day 28: Chart Shape
Day 29: Lunar Nodes
Day 30: Retrograde Planets
Day 31: Anticia
More for you
Each day there is stuff to learn and tips and tricks when reading a chart with that day's featured part.

Aspiring Astrology Activities each day for your own astrology journal.

Got questions then please contact me below.

[contact-form-7 404 "Not Found"]
---