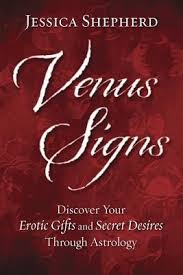 Book review by Alison Price
This book is about how your Venus placement will express itself through your chart and it is an easy read. There is much thought given to the many facets of Venus which is refreshing.
Venus in your chart is not typically a difficult planet and can be often ignored in favor of understanding more demanding planets like Saturn or Pluto.
Shepherd has brought each Venus sign placement to life and we can all benefit from a more rounded understanding of the brightest planet in the sky. I found my personal Venus in sign beautifully expressed which brought me another dimension to understand this much loved planet.
This is the type of book that you may not read from cover to cover but dip into as and when you need more understanding of the twelve possible Venus sign placements.
My copy was a PDF eBook suitable for an iPad or iPhone. The pages are clearly formatted and it is easy to read.
It is a beginner's book and could be understood by all. There is a handy list of the Venus placements in the back although if you are over 65 you can't get your Venus sign here and you will have to search elsewhere.
I recommend it as a Venus specific book for your astrological bookshelf.

* * *