Drop In Astrology Readings by Donation
---
Today
Saturday, August 19th. 2017 from 1:00pm to 3:00pm
Waves Coffee House, 900 Howe Street (at Smithe), Vancouver.
---
Come along and meet me as I will be doing 20 minute drop-in mini-readings in downtown Vancouver.
Bring your chart, or your chart details, and I will cast your chart on the spot and answer your questions.
For me to cast your chart I will need:
Your birth date
Your birth time
Your birth place
This is an excellent way to get a quick reading without a huge time or financial commitment
First come first served.
We will be in the workroom inside and toward the right of Waves.
If you like you may buy a beverage or snack.
---
Cost
There is no fixed fee. You may donate as you see fit. There will be a discrete donation box.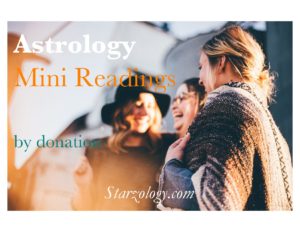 ---
---