by Alison Price
The astronomer Carl Sagan once said, "We are all made of starstuff."
This quote relates to how the universe formed, and that the heavier elements were birthed through the life and death of stars. I'm not saying I fully understand the actual scientific process, but I like the idea.
Starz in Art
I use stars in many of my patterns. But not all stars are created equal. The number of points in a star is critical to the meaning and ultimately the vibration of the star.
My favourite star is the five pointed star which has a point at 72 degree increments. When a circle of 360 degrees is divided by five the result is 72 degrees.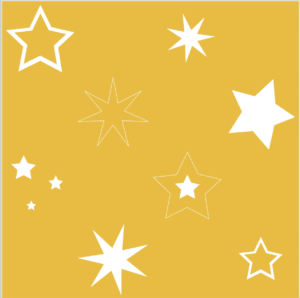 I named my business Starzology to tap into this energy. Every time you say a name, like Starzology, you confer the meaning of the word to the entity or person. 
This is why you should call your honey, well, "honey" or "babe" rather than "pumpkin" or "cockroach" when you say, "It's a pet name, she knows what I mean," as this nickname practice weakens the person through conference, and you want to avoid that.
---
---
The Creativity of Five
Five is a powerful number used in astrology for three reasons (you'd think I could come up with five reasons ha ha). 
The fifth zodiac sign is Leo the Lion which is the most creative sign.
The fifth house is all about restoration, procreation and creation. The act of giving birth to your creative projects is sourced in the fifth house of your birth chart.
The quintile aspect is the 72 degree aspect of creativity and genius. It indicates where the genius is in your life. Check which planets are in a quintile aspect to each other to understand how this energy is flowing in your life.
Confer your Brand
If you have an actual word like "star" in you business artistic name, use it to promote your art.  
If your name is Emerald City Art, use green and crystals to promote your art.
Look at the site RedBubble is red. The logo letters "RB" are round and fat just like a bubble.
The principle of conference works when you sleep.
Conferring your name, or your art business name, you will let the universe know you are in business.
Have a prosperous day,
Alison ⭐️
---