by Alison Price

April 2021 Horoscopes Overview
Mercury
This month, on the 4th, Mercury enters Aries to bring fast thinking, writing and texting and the danger of shooting your mouth off.
New Moon
The New Moon is on the 12th at 22 degrees Aries.
This is the seed moment this month when new ideas and projects can be germinated.
Any ideas you have at this time will develop and mature over the next two weeks.
Venus
On Wednesday the 14th, Venus goes home to Taurus where she is happy and helps us all financially.
There will be a feeling of having enough regardless of your monetary situation.
Mercury
During the 19th, the Messenger of the Gods, Mercury, dashes into the sign of the Bull.
This indicates slower deals and negotiations but those which will be more favourable for all concerned.
Sun
On the same day we enter "Taurus Season" when the solar orb brings light, warmth and life to all things Taurean.
Mars
Later on the 23rd, the red planet, Mars, goes into the sign of Cancer which is not his favorite place to be as he is in fall there.
This is a position where the planet's energy is likely to be at a low ebb for a while.
Full Moon
The Full Moon in Scorpio on the 27th, suggests themes of unearthing hidden issues especially emotions and family secrets.
Once you see your relatives for what and who they are you can decide whether to accept the situation and move on or if it's time to reassess your family dynamics.
This is a reality check for people with blood connections to each other.
Pluto
The only planet changing direction in April is Pluto on the 27th when it adjusts from moving forward to creeping backwards.
This is a symbolic turning point as the planet does not actually change direction, but it appears to do so from our perspective.
This energy shift will significantly reduce the energy available for some Scorpios and Capricorns.
---
---
Aries
Wellbeing
On the 4th, you can expect some clarity in your thinking. You are likely to hear good news as people speak well of you now.
The new Moon on the 12th will be the perfect time to start a new personal project.
Trust your feelings about things and only initiate plans that truly align with your inner self.
If you are planning a makeover, tap into your instincts to help you get it right. Avoid well-meaning friends whose advice can be not quite right for you.
Money
The second half of the month will be better for you financially as Venus brings a positive spin to your money situation.
If you are in to saving and investing put the most you have into your funds. This is the month to overcome that feeling of not having enough.
Avoid overspending on the 20th around the full Moon, as the temptation will be to flash your cash around which you will regret later.
Taurus
Wellbeing
On the 19th the Sun enters your sign. Now is your moment to shine. Step into the limelight and make the most of every moment.
This is not to the time to hide your light under a bushel use your self-confidence to show the  world exactly who you are.
Love
This month's full Moon on the 20th, falls in your partnership area.
Now you will be able to see your relationship for exactly what it is. It is as though there is no place to hide for you and them.
Take this opportunity to embrace any serious relationship you have already and let it survive on reality and not fantasy. You can do it.
Gemini
Wellbeing
Over the 15th and 16th of April, you can anticipate some mood swings as you appreciate life at its high highs and low lows.
Realize that this is a passing phase and avoid making any decisions when under emotional extremes.
Until the 23rd you will have boundless energy as Mars remains in your personal sector. Make sure to break a sweat as your embrace yoga, jogging or cycling as your favored exercise routines.
Love
The weekend of the 24th/25th is the best tome for a new romance to begin this month.
Steady relationships will benefit around the 1st and 2nd and the 28th and 29th of the month as Luna cast her beauty over your heartstrings.
Cancer
Love
Your romantic life is quite a focus in April. If you are single, the best day for you to go on a date would be the 20th at the full moon.
If you are in a committed relationship, there is a lot of energy bearing down on the basic romantic side of your relationship.
Take the time to enjoy your partner now. As Pluto once again stations retrograde in your area of committed relationships, you may get the feeling that you are revisiting and rehashing old arguments or situations with your partner.
It may also see that things you can't get past things and you are constantly revisiting old wounds.
Take a deep breath, as you have been here before and your relationship will be strengthened if you can defend the pair of you against the world. This is the time to "stand by your man" (or woman).
Leo
Career
On April 14th the money planet Venus slips into your career sector. This indicates that a woman may benefit you at work and can offer you some guidance. Female colleagues have support for you now.
Then a few days later on the 19th, both Mercury and the Sun join Venus in your career sector. This group of positive and uplifting planets will help to drive your business related issues.
If you are thinking about starting your own business this will be the perfect time to prepare the paperwork, discuss financial details and decide just how you see yourself in the new role of entrepreneur.
Love
The Moon in your romance sector on the 21st and 22nd suggests these are the best two days to become involved in a romance with someone special.
All of your serious relationships will be stimulated on the weekend of the 24th/25th as the Moon passes through. You will be keen to build and further develop your relationship at this time.
Virgo
Money
This month you are likely to be offered a get rich quick scheme or you are offered access to free finances that really do seem too good to be true.
Take great care borrowing extra money this month or living beyond your means.
It is crucial during this period that you maintain a grip on your outgoings and do not over commit yourself financially.
Love
Pay close attention on the 27th in your love life. The deeply passionate planet Pluto will be turning backwards at this time in your romance sector.
If you're single you may meet somebody who seems too good to be true, so give yourself enough time to realize who this person really is before you make any major commitments.
If you are in a serious relationship already, you could face a couple of hiccoughs between the pair of you in the last week of the month. But do not worry this is just a blip in a natural rhythm of relationships between two people.
Libra
Love
This is the perfect month for what Libras love most of all and that is spending time with their partner.
This month's new moon on the 12th will bring the focus to your relationships.
If you are single it may pass by unnoticed, however if you are in a committed relationship already and have a serious partner you are likely to discover deeper passions between the both of you.
Money
Your finances should ease this month and especially after the 20th at the full moon. You can anticipate receiving some financial support or donations or tips from someone.
Scorpio
Wellbeing
You will have a greater clarity in the last week of the month after the full moon on the 20th.
Take this opportunity of having a realistic look at yourself to see who you are. If there are facets of your personality that you are not happy with this will be the perfect moment to make some changes.
Love
The second half of April is the best time for you romantically. Three positive planets will enter your relationship sector to bring good things for you.
If you are single, it is likely that you may start a new relationship with someone special. If you are already in a committed relationship, there is some danger as you are as you find yourself flirting with somebody else unexpectedly.
If you main relationship is solid this will just be a passing titillation, however, if your partnership is weak in anyway, you may be tempted astray. Be on the alert for people who attempt to get between you and your partner now.
Sagittarius
Love
This is the month when your love life could take on a whole new theme. The first three weeks of April will be the best times for your romance make the most of every opportunity to meet new people even in these challenging times.
At the new moon on the 12th anyone that you meet as a romantic partner may become very significant for you.
If you are single, you are likely to encounter somebody who is super interesting that you are keen to go on a date with.
If you are already in a committed relationship, you are likely to find renewed interest in your partner alternatively you may find that you are being tempted with a flirtatious liaison that may not support your long-term committed relationship.
After the 19th there will be a slowdown in love opportunities for you. So, before the 19th make sure you got everybody's phone number so you can keep in contact.
Capricorn
Love
From mid-month your love life will perk up considerably as three dynamic planets energies this special area of your life.
You will begin to feel more romantic than you have for a long time as you open your heart to receive love.
From the 19th on which you're more likely to question any new romance but don't allow minor difficulties to stand in the way of true love.
Give yourself the permission to give someone you a chance before you dismiss them out of hand.
This is the month where you may find that special someone to light up your life.
Wellbeing
Your energy levels will remain moderate throughout the whole of the month but then towards the end on the 27th I may be a flagging of your energy.
Try not to take on new projects or extra work after the 27th to give yourself enough time for rest.
Aquarius
Family
In the second half of the month the focus will shift to family affairs.
Your domestic arrangements will be invigorated with lots of comings and goings and events that are unexpected at the moment.
Get ready to entertain people and visitors into your home as you will benefit from sharing what you have with others.
Love
Your love life continues at a rattling good pace for most of the month as the action planet mars continues to stimulate this area of your life.
After the 23rd things should quieten and down.
Pisces
Money
Your financial situation should approve dramatically at the new moon on the 12th.
This is not to say that you will have extra cash but the money that you do have will seem to go so much further.
Love
This month heralds an upsurge in your romantic life. From the third week on what you will have an energy surge that you have not felt for those in the past two years.
The active planet mars is entering your romantic sector to bring new sparks into your love life.
If you are single, you can anticipate an upswing in your dating activities. You are likely to meet more than one person who may interest you during this period.
If you are already in a committed relationship, there will be a sudden flareup of feelings that you may have thought of died long ago. This is the time to blow some life into dying embers and make the most of your partnerships.
---
 
Find out how I created this April Horoscopes image and how I plan my original horoscopes for you.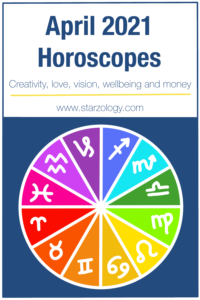 ---
---