by Alison Price
Getting your act together as a professional astrologer takes time and effort.
If you are a dabbler and have no interest is going pro that is fine.
But, if you are considering stepping up your astrological business or, tuning what you have built so far into something great, here are some ideas on what you need to get in place to become a successful astrologer.
Note: I refer to her but clearly it can refer to him as well.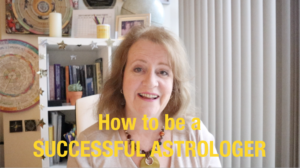 A successful astrologer
A successful astrologer works on charts regularly. She looks at new charts, interprets and forecasts every week. She does not let a month slip past without analyzing a chart. She has charts lined up for interpretation.
A successful astrologer has many income streams sourced from a broad output base including; client consultations, lectures, teaching, podcasts, writing horoscopes etc. She does not depend on client consultations alone for her livelihood.
A successful astrologer knows how to be easy going. She is keen to work and collaborate with other astrologers in her community.
A successful astrologer knows how to press herself to appeal to different clients. She is not a one-trick pony.
A successful astrologer markets herself well, truthfully and consistently. She is always tending her platform and knows what works for her.
A successful astrologer is easily found by Google and makes sure her website, Facebook or Twitter accounts have current and relevant content. Her site does not have stale, six months old and out-of-date material.
A successful astrologer prices her services in the correct range, that is, she charges in the sweet spot at the intersection of her ability and experience.
A successful astrologer has a network of contacts that help her promote her business, she interfaces effectively and regularly with them.
A successful astrologer has a focus for her work and knows her speciality inside out. She is not a Jack (or Jill) of all trades and master of none.
A successful astrologer develops presentations, courses and workshops that pay her well for her time and expertise. She has lecture outlines ready when invited to speak at a conference and gets her information to the organizers promptly. She is considered one of the "easy astrologers" to work with and she is not a prima-donna.
A successful astrologer knows when it is time to call in the experts. She has a list of related specialists to whom she can and does refer her clients if necessary.
A successful astrologer knows her message, remains in her truth and stays on track within her niche. She doesn't try to be all things to all people.


---